On a recent weekend getaway, I rose early to watch the sunrise. In a resort where everyone was a stranger to me, sitting on the dock in my pajamas was not a problem at all! What a contrast to the prior few months.
With a hot cup of coffee in hand, I listened to the sounds of Taylor's Creek waking for the day. Choirs of birds whose voices were growing louder with each new ray of light. Boat motors quietly humming as people casted nets in efforts of gathering bait, headed out for the morning. Fish splashing as if stretching for a new day.
I closed my eyes intentionally to hear the sounds. When I opened them again a beautiful white great egret had settled on the dock beside me. Birds have scared me until recent years.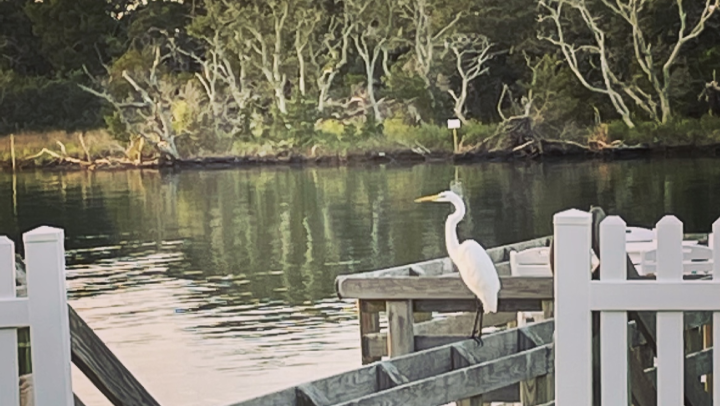 A viewing of the Alfred Hitchcock movie when I was incredibly young, made me typically cover my eyes tightly and run from them. Over the years, I have learned to appreciate the amazing variety of birds, and on that morning, I gave thanks for them.
All week long in Charge Conferences, I listened to church families speak about all the beautiful ways they had as congregations, seen the Holy Spirit at work. I was listening and now seeing the Holy Spirit at work all around me. It felt as if I was being refilled, renewed, and wrapped in the love of my savior as the world woke up. 
Where have you seen and felt the Holy Spirit at work this week? We spend so much time responding to man made forces in our life. This week let's respond with intention to the divine power of the Holy Spirit and the creativity of our Heavenly Father. Have eyes to see and hearts open to experience the love and grace all around us each day. Lean in…feel it all. 
Find out when the Charge Conference for your church is scheduled and zoom in for the worship service. Worshipping together is a wonderful way to celebrate the many ways God shows up for us every single day.
"Whenever, though, they turn to face God as Moses did, God removes the veil and there they are – face-to-face! They suddenly recognize that God is a living, personal presence, not a piece of chiseled stone. And when God is personally present, a living Spirit, that old, constricting legislation is recognized as obsolete. We're free of it! All of us! Nothing between us and God, our faces shining with the brightness of his face. And so, we are transfigured much like the Messiah, our lives gradually becoming brighter and more beautiful as God enters our lives and we become like him."
2 Corinthians 3:16-18 MSG
---
If you would like to view past editions of A Message from Kim, follow this link: https://sounddistrictnc.org/category/from-district-lay-leader/
If you would like to connect with Kim please do so through her email, k.smith@nccumc.org